Study Buddy Dog Helps PE Student Achieve Success Against the Odds
Everyone needs a study buddy, but most are probably not as loyal – or four-legged – as Viking, who joins Port Elizabeth student Heinrich Williams on stage for his graduation this week… at his side as he has been throughout Heinrich's studies at Nelson Mandela Metropolitan University (NMMU), and kitted out in full graduation gear!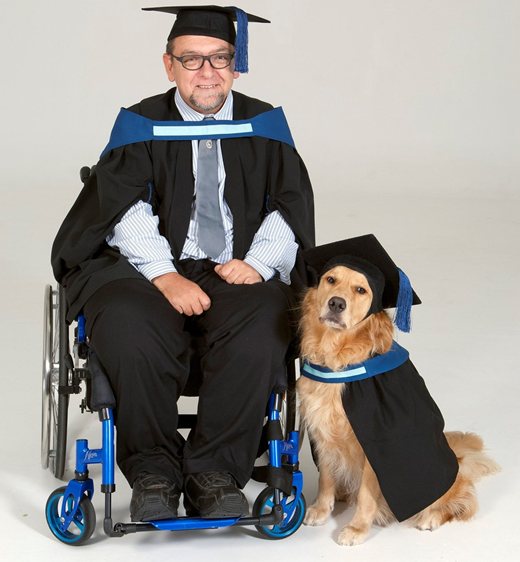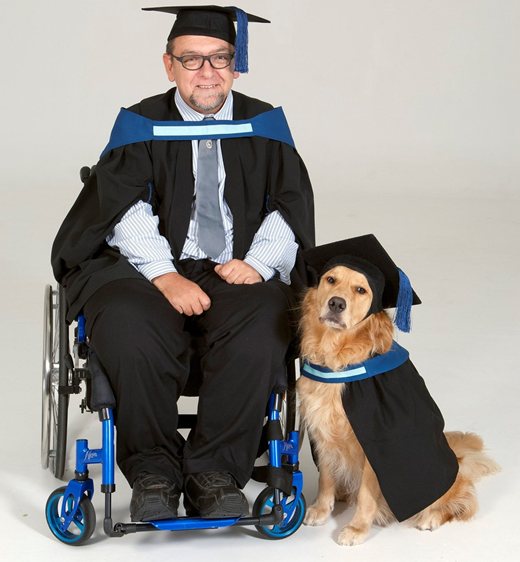 "He deserves to graduate with me, he was present in all my classes," says 45-year-old Heinrich. The four-year-old Golden Retriever mix has attended every one of Heinrich's lectures and exams as a service dog, assisting the NMMU student in achieving his NDip Industrial Engineering.
The graduation attire for Heinrich, a C6 quadriplegic, and Viking has been custom made by Croft, Magill & Watson for the special occasion.
Heinrich tragically became paralysed from the neck down in 2010, whilst working in China as a process engineer where he contracted a bacterial infection which resulted in an abscess pressing up against his spinal cord.
The injury led to unemployment, boredom and frustration. And finally – in 2013 – Heinrich took up a friend's advice to study further… although he admits that "returning to a classroom after 20 years was daunting."
It was an adjustment and being disabled presented a whole new challenge for someone who had worked for 12 years in the airforce as a qualified aircraft electrician.
"The first year was the hardest but my experience at NMMU has been great," says Heinrich. "Young, old and across all races, Viking and I were accepted and able to mingle very well."
"Viking is not an animal. He is an extension of me, he is my arms and legs."
Heinrich had waited two years to receive service dog Viking from the SA Guide Dog Association. The non-profit organisation – which matches a dog to their owner's lifestyle and personality – covers all expenses, including a trainer who trains the dog in its working environment for a period of three weeks.
Viking can open and close doors, pick up objects, help Heinrich get dressed, alert someone if Heinrich is in need and can even press a panic button for the alarm.
"Viking is not an animal. He is an extension of me, he is my arms and legs," says Heinrich.
Heinrich says he is also supported by his wife who has been "extremely encouraging and positive", and by the Industrial Engineering department as he works to complete his BTech Industrial Engineering.
Through his studies and the NMMU's Innovation Office, Heinrich is making breakthroughs in ways to improve disabled people's lives. He has conceptualised two quad products which are currently being developed – Qbell™, an easy call button suitable for use by patients with reduced or no hand/arm function, and Qpark, a parking access system that promises to finally prevent able-bodied motorists from unlawfully using disabled parking spaces.
Source: http://www.sapeople.com/2016/04/15/study-buddy-dog-student-graduates-port-elizabeth-south-africa/